Anita Khan, executive director of customer services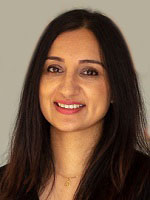 I know I'm not alone in terms of wanting my career progress to be based upon my achievements and ability, not my characteristics as a woman from a BME background.
Arguably, we have seen real progress in wider society around some issues of equality, although the gender pay gap and the #metoo campaign are just two indictors that we still have a long way to go.
In the housing sector, in order to ensure that people of all backgrounds are able to shine through, we must get better at creating the spaces that allow them to do so. So how can we do this and ensure opportunity for all?
I was encouraged when Inside Housing launched its Inclusive Futures campaign to promote and celebrate diversity and inclusion. I genuinely hope it acts as a catalyst for fresh ideas for the next generation of leaders in the sector, and helps to make sure that the most talented individuals have the opportunity to go on to shape the future of housing.
There are already many great initiatives out there, but if the sector is serious about creating diversity of thought, we really need to be more creative in how we nurture talented individuals who have potential.
Does success require special initiatives focused on one group or another? Surely true diversity involves everybody being in a shared space and progressing based upon their merits.
So, where to start? Forums in which all potential future leaders could mix with one another, and with the housing sector's current chief executives and senior leaders, would be a great place to begin – and there are already opportunities that aren't being made the most of. For example, why not use existing events such as Housing 2018 and The National Housing Summit 2018 to get these groups together?
Chief executives already mingle with one another at conferences – if the right initiatives were in place, these housing heads could, I'm sure, find time to meet with the next generation of leaders.
Also, the power of more informal groups should not be underestimated. Opportunities for future leaders to get together with established leaders in order to discuss issues in the sector and their career progress, would lead to the natural formation the types of support networks that can really help individuals to the top. The chief executives would also gain useful insights to help them hone their thinking.
Individual leaders have the potential to make a huge difference on a day-to-day basis, within their own organisations. I've had in-depth conversations with our chief executive, Gavin Cansfield about diversity issues. These discussions have driven both of us to think more about what true diversity and inclusion involves, and what we can do to help achieve it. For me, they've made me feel empowered to put myself out there and contribute to this debate publically.
Of course, this is a multifaceted issue, but progress begins with all of us being open to new ideas and perspectives. This is what will allow individuals, organisations and the whole sector to move forward.
At a time when the sector is changing so dramatically, and there are so many new opportunities for our organisations, and chances to do things differently, we need diversity of thought to bring new and fresh approaches.
Everybody must feel that their input is valued, that their suggestions are welcome. Those with the ability, drive, determination to go on to shape the future of the housing sector must feel confident that they stand as much chance as the next person of making it to the top.
And once they've done all of the hard work it takes to get there, they will be able to define themselves, quite simply, as a leader. Full stop.
Article first published in Inside Housing.
Share this article