MP visit marks progress at new development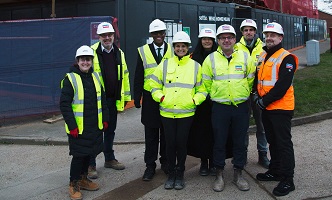 We were delighted to show Bim Afolami, MP for Hitchin and Harpenden, around our development at John Barker Place in Hitchin on Friday 21 January.
Colleagues from our development team at settle and construction partner Jarvis joined Bim during his latest visit to the site. We were able to show Bim progress across the development including the first show flat, which is due to be completed next month.
The development at John Barker Place will provide 83 new affordable flats and two new shops, with residents due to move in to new homes at the site from this summer.
The first homes at the new development at John Barker Place will be provided for residents of the nearby Westmill Lawns retirement living scheme and Freemans Close. Plans for additional investment on the site of Westmill Lawns, Freemans Close and other flats near the new development were recently announced by settle, with ongoing consultation with residents across the Westmill estate to ensure this brings benefits to all those living nearby.
Penny Metcalf, Executive Director of Development at settle said: "We were delighted to show Bim around the new development at John Barker Place. These will be lovely homes in the heart of the Westmill community. We were delighted to talk through with Bim the progress we are making, and our plans for additional investment across this neighbourhood."
Bim Afolami, MP for Hitchin and Harpenden, commented: "On Friday it was fantastic to see the great progress that had been made by settle & Jarvis on John Barker Place. The new development is a great investment into the Westmill Community in Hitchin and I look forward to visiting again in due course as the project approaches its completion."
Share this article