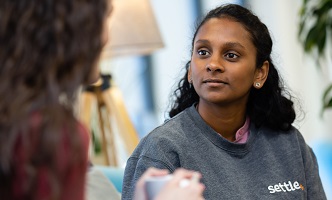 At settle, our role goes beyond simply being a landlord and getting the basics right. We want to support all residents to live in your homes comfortably.
We know that things may feel difficult for a lot of residents right now with a rise in cost of living and energy bills.
We want to remind all residents that we are able to support those who may be in financial difficulty and can help with paying for essential things like food, heating and water bills; warm clothing and toiletries and even repairs to appliances.
We can also provide practical help like setting up energy and utility bill payments; applying for benefits and grants and supporting your mental wellbeing. We will listen to understand your personal circumstances and tailor additional support to your needs.
settle plus
Through our settle plus programme we can also provide additional help to residents during the time they need it. This is provided directly by settle colleagues or by connecting residents with our partners who are better able to help. If you are struggling with anything at all or have questions, please get in touch.
Share this article