Why we're changing our logo for Pride month?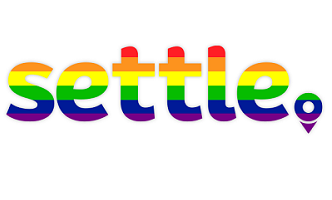 This June we will be celebrating Pride month to show our support for LGBTQ+ equality and to celebrate the LGBTQ+ community. As part of this we're excited to share the settle logo we will be using on our website and social media platforms. This logo includes the six colours of the Pride flag.
We're changing our logo to show that we're committed to taking meaningful action to further progress LGBTQ+ rights.
We want our residents and colleagues to live comfortably in their homes and neighbourhoods and to show support for anyone who identifies as part of the LGBTQ+ community. As part of this – we are assessing our current policies and procedures for any bias or disadvantage to the LGBTQ+ community and connecting with local organisations who are working to support LGBTQ+ rights.
We know that making settle a more inclusive community for LGBTQ+ colleagues and customers is not a change that can be done in a month. This is why changing our logo is a reflection of the work that has been done, but also the commitment we have made to continue making the settle community a safe place for LGBTQ+ people.
If you'd like to learn more about our commitment to diversity and inclusion, check out our 'we value everyone' film which aims to capture our commitment to equality at settle.
Share this article