voice of the resident panel drop-in event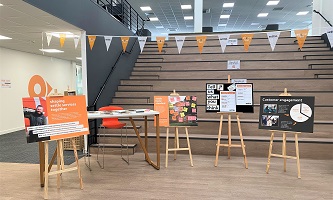 It was great to welcome residents to our office on Saturday morning for a coffee, a cake and a chance to find out more about the launch of our voice of the customer panel.
The drop-in event gave residents the opportunity to speak to settle colleagues about our plans and share their thoughts on the sorts of topics that the panel will be exploring.
We had some brilliant conversations on a wide range of big housing questions from the cost of living crisis to what a settle home standard could look like. We also had some children's activities so that residents could bring their families along!
Hearing directly from residents is how we make sure our services work for all settle tenants. We can't wait to get the panel up and running so we can continue to collaborate with residents to shape and improve the way we do things at settle.
It's important to us that our voice of the customer panel is representative of our customer base and made up of a range of different voices, so we want to give everyone a chance to put themselves forward for this opportunity. If you weren't able to make the event but are interested in becoming a panel member, it's not too late – please email engagement@settlegroup.org.uk to let us know and we'll get in touch.
Share this article