New development in Letchworth delivers settle's 10,000th home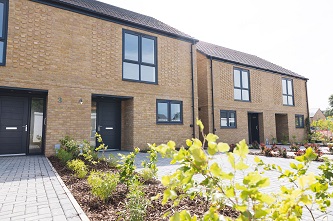 We're delighted to announce the completion of our 10,000th home in the heart of one of our biggest neighbourhoods in Letchworth, Hertfordshire.
Complementing our affordable homes across Hertfordshire, Bedfordshire, Buckinghamshire and South Cambridgeshire – the property is part of a new development of 30 two-bedroom homes for affordable rent at John Stoddart Court, on the Jackmans estate in Letchworth.
Developed in partnership with Chalkdene Developments, a joint venture between Morgan Sindall Group and HLL, with Lovell Partnerships the contractors on site – work began on the development last summer.
They will provide homes for local residents who are waiting for similar properties, and for some residents moving from regeneration projects we are running nearby.
The new development is called John Stoddart Court after the D-Day veteran, fundraiser and former magistrate who made a huge contribution to the local community during his lifetime in the town.
Gavin Cansfield, Chief Executive at settle said: "We're really pleased to have reached this milestone on the delivery of our 10,000th home as part of this new development. They are lovely homes in the heart of one of our biggest neighbourhoods, and really demonstrate our commitment at settle to investing in good quality affordable homes and great places to live. I hope all residents will be really happy in their new homes."
Share this article