Neighbourhood action week on Jackmans Estate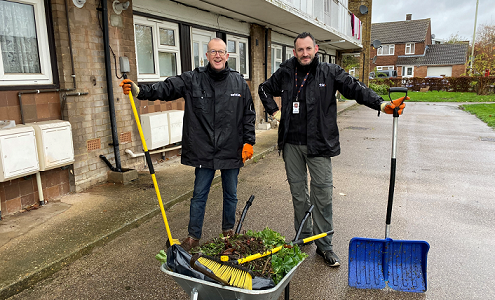 At settle, we're committed to investing in our neighbourhoods and creating places where residents feel proud to live.
As part of this, we will be running our next neighbourhood action week from 27th February until 2nd March on the Jackmans Estate in Letchworth. Members of the settle team will be sweeping leaves, clearing alleyways and litter picking around Jarden, Kyrkeby, Lannock and Newells each morning from 9:30am to 12pm. Keep an eye out for us if you're in the area.
If you would like to get involved, we'd love to see you there. Drop by at any time for a chat or get stuck into some litter picking with the team. Hot drinks, safety gloves and litter pickers will be provided!
We have recently been getting out and about in some of our biggest neighbourhoods to carry out this series of action weeks aimed at tidying up the local area. In December we spent a week on the Grange Estate in Letchworth, followed by the Westmill Estate in Hitchin in January. We will keep our website updated with plans for future action weeks in other neighbourhoods.
Share this article