Update on redevelopment at John Barker Place, Hitchin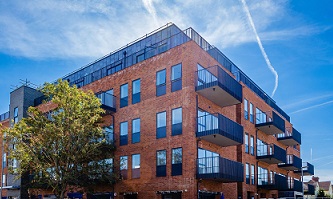 We were advised on 1st March that our development partner Jarvis Contracting, who have been working on the new buildings as part of our redevelopment at John Barker Place, on the Westmill estate in Hitchin, has sadly gone into administration.
Jarvis completed Kingfisher House, the first phase building in the redevelopment of John Barker Place last July.
They had also started work on the new homes to be completed during phase 2 of the redevelopment and are no longer on-site.
The news that Jarvis Contracting have gone into administration has come as a shock for everyone involved.
Committed to progress of redevelopment

We want to reassure all residents that we remain committed to the continued regeneration at John Barker Place and have begun discussions with other partners who will be able to complete the development work for us. It is our aim that development work will start during the next few months. Until then, 24-hour security will remain in place on-site.
Fiona Coulson, Executive Director of Development at settle said: "We are saddened to hear this news about Jarvis Contracting. It's been a pleasure working with them to date at John Barker Place and we know that many member of the team on site had been working closely with members of the Westmill Community.
"We remain committed to the continued regeneration at John Barker Place. An administrator has been appointed to Jarvis Contracting and there are steps that will need to be followed before we can restart development works, but it is our intention to do this as soon as possible. We're really proud of this development which is revitalising the neighbourhood and delivering homes where residents can live comfortably."
We will keep residents and members of the wider Westmill community updated as our plans progress. Please do get in contact with us if you have any questions.
Share this article