8 water saving tips that can help reduce costs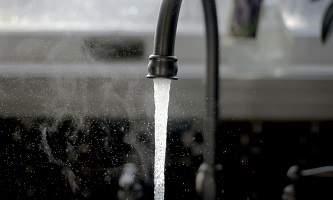 To mark World Water Day, we've put together some water-saving tips that can help lower water costs and also help reduce water usage which will help protect water supplies and the environment.
Take shorter showers – keeping your shower to 4 minutes or less can save a typical household £95 a year on their energy bills. Lots of water companies will send you a shower timer for free, check with your provider to find out more.
2. Turn off the tap – running taps waste as much as 6 litres of water a minute. Turning off the tap when brushing your teeth or filling a bowl of water when rinsing vegetables can help save water.
3. Avoid overfilling the kettle – only filling as much water as you need when boiling the kettle saves water and energy.
4. Fill up a jug of cold water – to reduce running the tap for cold water and put it in the fridge so that you always have a supply of cold water.
5. Use leftover cooking water or water from rinsing vegetables for plant watering/ garden use.
6. Only use the washing machine with a full load – washing machines can use less than 7 litres of water for each kilogram of clothes.
7. Fill your dishwasher – switching from handwashing to dishwashing saves 6,000 litres per year.
8. Avoid using hosepipes and sprinklers – use a watering can in the garden instead. Garden sprinklers and hosepipes left running can use between 500 and 1,000 litres of water an hour.
Other things that you may consider doing to save water include:
Fitting a water butt to collect rainwater from your roof – water butts usually store about 200 litres of water. As well as being better for watering your plants, using rainwater in the garden reduces the amount of treated water you use.
Checking your home regularly for leaks from internal plumbing. If you wish to report a repair, you can call our team on 0330 343 0016 (local rate).
If you receive Universal Credit or Housing Benefit, you're eligible for a water discount from Affinity Water. If you pay your water charges through us (at the same time as your rent) let us know so we can apply for the discount for you.
Install a water meter – water meters may be suitable for some homes to help monitor and reduce water usage. You can request permission to do this by filling out a form on our website.
Check if your water supplier offers water-saving devices – many water suppliers provide devices with the potential to save water for free. Have a look at your water supplier's website to see what they offer.
There are other tools like the Anglican Water usage calculator that shows you how much water your household uses on average and compares with similar properties.
The How much will I save calculator on the Affinity Water website will show how much you could save by having a water meter installed. Other information that can help with Water costs can be found on our Cost of Living page.
If you are struggling to pay your rent or would like more information on how to access help – please let us know. We can provide practical help, like setting up energy and utility bill payments, applying for benefits and grants and supporting your mental wellbeing.
Share this article