Latest neighbourhood action days completed in Hitchin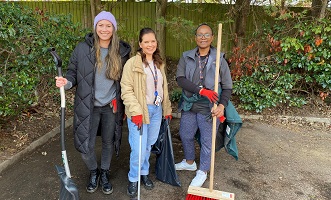 We're really pleased to have completed our latest neighbourhood action days. Between Monday 24th and Wednesday 26th April, settle colleagues were in Purwell and on Thursday 27th April in Sunnyside, both neighbourhoods in Hitchin.
In both areas, colleagues were helping to tidy up the areas including litter picking and clearing alleyways. We were delighted to be joined by local residents in Purwell who joined in with tidying the area.
In Sunnyside, the space available meant that we were also able to help residents dispose of unwanted household items. Thanks to our partner, Letchworth-based Clean Kept Yard who helped us run the day – sorting everything that came in, to make sure we could reuse, recycle and rehome items that are still in good working order. Thanks also to the company who provided the skip we used on site, Eco Waste – they assured us that no waste would be disposed of in landfill.
These action days are part of our commitment at settle to investing in neighbourhoods and creating places that are good to live in. They follow successful action days we have run in other areas across Hitchin and Letchworth. We will keep residents updated with plans for future action days in other neighbourhoods, and publish these on the website.
Share this article