Steps we're taking to go 'greener' in our neighbourhoods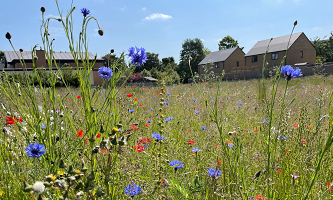 From going out and speaking to residents and hearing feedback from groups like the Green Panel and Voice of the Customer, we know that green spaces are so important to residents' everyday lives.

This week we've been celebrating the UK's Great Big Green Week at settle and heard from colleagues in our estates team about the positive actions we're taking to ensure sustainability plays a huge part in their day-to-day work.
Waste and Recycling

Over the last year we collected over 110 tonnes of waste from our estates, this all goes to recycling centres were 95% of it is fully recycled or repurposed. Our aim is to reach 100% recycling in the next 3 – 5 years.

Our green waste is repurposed into both biomass where it is used to produce clean energy and is processed into compost. We are also working with local authorities where we have homes to ensure all our blocks have recycling provisions and encourage the use of these facilities rather than domestic waste.

Wildflowers and meadows

Over the next year, we will increase our planting and rewilding schedule for our estates and have been actively creating wildflower beds which will help increase biodiversity. We currently have a total of eight of beds across the Grange and Jackmans in Letchworth Garden City and Westmill in Hitchin.

For every tree that we sadly have to remove due to it being dead, diseased, dangerous or affecting a property – we plant two in its place. We have 60 native species trees on order through a local provider in North Hertfordshire, less than 5 miles from our office in Letchworth, which we will plant later in the year.

We're also currently sourcing 10,000 whips – small single stem bare root hedge plants, which will be of mixed native species – hawthorn and blackthorn that will be used to create new hedgerows and corridors for wildlife to link between wild areas.
'Greener' machinery
We ensure our fleet and machinery is efficient and regularly trial new technologies. The equipment we use has the most efficient engines possible to reduce emissions. We've purchased a range of battery machinery to reduce the reliance on fuels and will be expanding this at the end of machinery life. The contractors we work with are also committed to implementing electric machinery in the coming years.
Share this article