Work has restarted on John Barker Place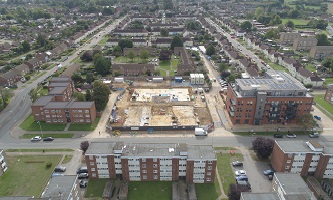 We're delighted that work has started again on Phase 2 of the John Barker Place development.

You will already have noticed that safety inspections and adaptations to the scaffold were made over the last couple of weeks in readiness for the works to resume before subcontractors continue to build to the roof stage.
We remain committed to the continued development and proposed plans for Phase 3 and the redevelopment of John Barker Place, Westmill Road and Westmill Lawns.

If you have any additional questions about the development, please do not hesitate to contact us. You can email us and one of our team will get back to you or get in touch and ask to speak to the regeneration team. We will keep you updated as our plans progress.
Related Pages
Share this article