Successful neighbourhood action days – Mendip Way, Pyms Close, Little Wymondly & Gravely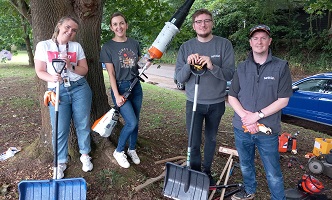 Colleagues from teams across settle recently took part in neighbourhood action days from 11 to 13 July on Mendip Way in Stevenage, Pyms Close in Letchworth Garden City and Little Wymondly & Gravely.
These follow similar successful action events we have run in some of our biggest neighbourhoods during recent months and are part of our commitment to investing in neighbourhoods and creating places where residents can feel proud to live.
On Tuesday colleagues cleared a communal garden at Mendip Way for residents to enjoy along with clearing the car park of weeds and moss and replacing a section with gravel ensuring the area looked tidy and a place where residents can live comfortably.
Colleagues spent Wednesday morning at Pyms Close painting the bin storage area along with clearing communal spaces.
Colleagues, including our CEO, Gavin Cansfield spent Thursday morning between Little Wymondly and Gravely clearing access routes, alley ways and areas around garages as well as edging pathways.
Our next neighbourhood action days will take place in early September and we'll continue to keep this website updated with details of these future events.
Share this article