Update on investment to homes around Western Way and Pelican Way, Letchworth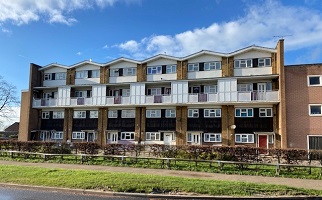 We recently contacted residents on Western Way, Orchard Close and Pelican Way in the Grange neighbourhood with an update on our investment proposals for the area.
We explained that we are currently reviewing plans, in particular to join up with other developments that are being planned in the area.
We emphasised that we are still committed to investing in new homes around Western Way, Orchard Way and Pelican Way, but it's going to take longer than we first intended.
Repairs and support
We will continue carrying out repairs to all properties, communal spaces and commercial spaces that we are responsible for until the buildings are updated. We urge residents and tenants to let us know at any time if there is a repair or work needed to your home.
settle residents in the area can report a repair to us, or any specific concerns about your home by calling 0330 343 0016. Repairs can also be reported to us through our website and clicking the blue 'my account' button
We can also provide extra support to help residents and leaseholders. More details are on our website including links to an online cost of living form to access additional help from settle.
We will provide more information as soon as we are able to progress the details of these proposals. For residents and tenants – please get in touch with us if you have any queries at any time.
Share this article