Neighbourhood action days at Weston and Jackmans 5 – 7 September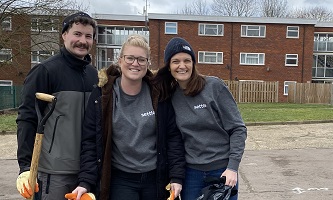 Our next neighbourhood action days are taking place in Weston and around the Jackmans neighbourhood in Letchworth Garden City between Tuesday 5 and Thursday 7 September.

These days are part of our commitment to investing in neighbourhoods and communities and creating places where residents can feel proud to live.
Colleagues from across teams at settle volunteer their time to support our Estates team with general clearing and tidying up as part of our Giving Something Back days.
We will be at the following locations on the dates listed below:

Tuesday 5 September – Friars Road and Marlborough Close, Weston: Clearing communal areas, digging out bramble and planting grass seed to fill the gap where the brambles have been removed.

Wednesday 6 and Thursday 7 September – Jackmans, Letchworth: Painting the communal lounge at Hadleigh, litter-picking around Ivel Court and surrounding alleyways, painting some outdoor benches, weeding, barking and replanting some flower beds and cleaning outside spaces.

We will be carrying out the work in the mornings between 9 am – 12 pm and in the afternoon from 1 pm to 4pm. Residents are welcome to come and join us or stop by to talk with the settle team.
We look forward to seeing you there!
Share this article