New development of mixed-tenure homes near Flitton in Bedfordshire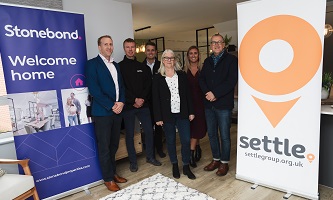 We were delighted to recently mark the completion and handover of new homes at The Appleyard near Flitton in Bedforshire.
Developed in partnership with Stonebond, The Appleyard is a quality new development of mixed-tenure homes. This is the second project that we've completed in partnership with Stonebond, having already handed over 25 new affordable homes in Shepreth, South Cambridgeshire.
Fiona Coulson, Executive Director of Development at settle, said: "We're delighted to have worked in partnership with Stonebond again on these new homes at Flitton, and to mark completion of the affordable homes. It's a lovely development in a great setting and I am sure residents will be very happy in their new homes."
Peter Williams, Managing Director of Stonebond St Albans, said: "There is no better feeling to see new residents move into their homes and the joy that brings them. Through our partnership with settle we've built another fantastic mixed-tenure development at The Appleyard, and we're delighted to be moving forward with our latest development in Linmere, which will make a significant contribution to the area's affordable housing supply."
We're currently working in partnership with Stonebond at one of our newest developments – Linmere, a 650-acre urban village in Houghton Regis, Bedfordshire, which will provide 202 homes. 70% of those homes will be delivered as additional affordable homes, including affordable rent and shared ownership.
Share this article