Returning to Kimpton and Knebworth for Neighbourhood Action Days 14 – 16 November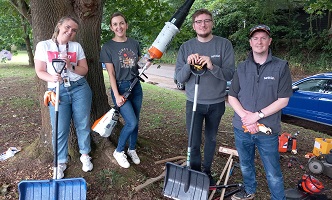 We are continuing our #basicallybrilliant neighbourhood action days by returning to Kimpton and Knebworth between Tuesday 14 and Thursday 16 November. Colleagues will volunteer their time to complete some of the tasks from the last action days when we visited in October.
This included:
Deanscroft in Knebworth – clearing flat block garden areas and communal spaces and tidying front pathways along with some planting. Bin areas were swept with one bin area moved to a more suitable location.
Wren Close in Kimpton – Colleagues painted a fence line, cleared growth at the edge of the road, widened pathways, and cut back overgrown bramble in the car park area.

During the next action days we will be focusing on tidying up the area, bulb planting and general grounds maintenance.

Location dates and times

Tuesday 14 November – Wren Close in Kimpton between 9am – 12pm & 1pm – 4pm
Wednesday 15 November – Deanscroft, Knebworth between 9am – 12pm & 1pm – 4pm
Thursday 16 November – Cherry Close, Knebworth between 9am – 12pm & 1pm – 4pm
We look forward to seeing you there!
Share this article