How settle's culture helped us deal with COVID-19
Michael Hotton, chair of the settle colleague forum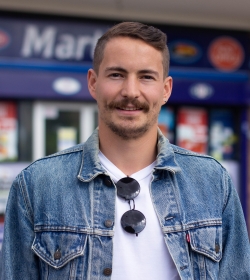 Five years ago we launched our colleague forum, marking the start of our journey to transform our culture and achieve our aim of making settle a great place to work.
Since then we have been busy developing colleague engagement, recognising that this would be integral to transforming our culture. We now have our annual #homefest colleague event, an emphasis on peer-to-peer engagement through formal and informal check-ins and regular surveys for colleagues to give their feedback, knowing that this really will influence how things are done across the organisation. Our rebrand to settle in 2018 was a key step to ensure lasting cultural change, by giving a clear social purpose to everything we do – and still want to achieve.
How have we done so far? In 2016/17 settle's colleague trust score – our measure of satisfaction among our 300 staff – was 67%. It is now 82%. In addition, 93% of colleagues say settle is a great place to work – up from 71% in two years. In short, colleagues are definitely happier in their jobs. This is the case despite – or in an odd way perhaps partly because of – the COVID-19 pandemic (more on that shortly).
Lessons to focus on customers
We now want to replicate our success in colleague engagement in the way we engage our residents. This was always our plan, but becomes even more important now we have a clear focus on residents in the Social Housing White Paper. What are the lessons we can take from the progress we have made since 2015 and apply to our work with customers?
A recent report to the settle board captured some important insights. First, the fact that colleagues say their experience is that their voices are heard – often through the settle forum – and feedback is acted upon. Where additional investment is needed, this is made in order to ensure sufficient capacity exists to do the job well.
#homefest colleague event
Second, the annual #homefest event has become a firm fixture in the settle calendar every autumn. I really enjoy the fact that it is not a traditional staff conference, where we are all lectured by the CEO. Instead, #homefest is something we all help create. The emphasis is on peer-to-peer learning, reflecting on the past year and planning for the 12 months ahead. The event was held virtually in 2020 due to the pandemic, but in more ordinary times it is held in locations at the heart of our communities in Hertfordshire and Bedfordshire – families are even invited along in the afternoon to help reflect on and celebrate our achievements. It is a great experience.
This all adds up to a tremendous sense of pride colleagues feel in working at settle. At the settle forum, we repeatedly hear from colleagues how great it is to see our social purpose coming to the fore in everything we do now. We often see colleagues go above and beyond their role to help customers and colleagues in any way they can. The fact that our target is for all colleagues to give in total 3,000 hours of volunteering through 'giving something back' days speaks for itself.
Building blocks in response to COVID-19
Looking across the housing sector, it is brilliant to see the amazing efforts from all housing providers during the past year, with all of us supporting our communities in some of the toughest times many of us have known. I can honestly say that, at settle, I have never felt a greater sense of combined purpose and determination to support each other to succeed. Whether that has been making welfare calls to vulnerable customers or providing laptops and tablets to help working parents with home-schooling, settle colleagues have risen to the challenge.
My personal highlight is the recent work the settle forum has been able to do in lockdown 3.0 to ensure enhanced support for working parents with home-schooling responsibilities. Our quickfire focus groups with colleagues via Teams and recommendations to the settle leadership team have resulted in a number of positive steps, including additional flexibility and paid parental leave during lockdown.
Had we not put the building blocks in place in the years since 2015, I do not think we would have been able to respond as effectively as an organisation as we have during the pandemic. It has been a really difficult time for many people, but a silver lining has been that it has turbo-charged our transformation. We have all pulled together and are now far better-placed and able to deliver for our customers to help them live comfortably in their homes – more important now than ever.
To my mind, settle has completely transformed since 2015. I am thrilled at the ideas we are generating and the fact that it feels like we have only just started scratching the surface of what is possible to help support and empower our communities. Despite the pandemic, I feel positive about the future and look forward to reporting back in 2026 on what settle colleagues achieve with customers in the next five years.
Share this article