Spring Big Door Knock – Stevenage and surrounding villages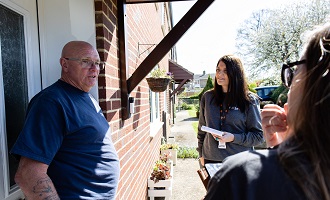 We completed our Spring Big Door Knock with residents in Stevenage and surrounding villages between the 19th and 29th of April.
Every quarter, all colleagues from teams across settle contact residents in a different location to find out how settle are doing as a landlord, what they think of the services we are providing and where we can improve.
We'd like to thank all the residents who took the time to speak to us and share their views. We visited over 700 properties and spoke to 258 residents in Stevenage and villages including Weston, Great Wymondley, Codicote, St Ippolyts, Whitwell, Kimpton and Knebworth.
Satisfaction Rate
We heard that –
73% of customers are satisfied overall
69% are satisfied that we get the basics right when it comes to repairs, customer service and when things go wrong
73% feel happy about the quality of their home
77% feel that their home is safe
81% feel satisfied in their neighbourhood
75% feel that settle as a landlord, we care about our residents.
Resident feedback
Speaking to residents about the quality of their homes and the neighbourhood in general – we heard positive feedback. One resident said: "I really love my house I have been here 25 years – it feels like home." Another resident in Codicote said they loved the neighbourhood, and everyone was friendly and lovely there.
Whilst almost 70% of residents are happy that we get the basics right when it comes to repairs, customer service and when things go wrong – we heard feedback from some customers who were waiting longer than expected for repairs to be carried out or for updates on those repairs.
#basicallybrilliant neighbourhoods
Part of our role as your landlord is to ensure we are getting the basic services right. To create #basicallybrilliant neighbourhoods we are working hard to ensure we continue to keep residents updated and informed of where their query has landed or repair work is due to take place.
We usually aim to complete all routine repairs within 18 days. At the end of March this year, we could see that it has taken an average of 24 days during the past year to complete routine repairs.
We continue to do all we can to reduce the time it takes us to complete repair and are recruiting new colleagues into our trades teams to help us provide repairs more quickly.
We will follow up with correspondence to all residents and get in touch with those who highlighted concerns with an update on any outstanding repairs or queries.
We're listening
If you would like to share your views on our services – you can tell us what we could do better and when we've done something well, or make a complaint at any time.
We will use feedback from this event and other Big Door Knocks to help shape our ways of working in our neighbourhoods. We will also continue to share this through neighbourhood plans for areas where we are the landlord for many of the homes and will launch our first one for the Westmill Estate in Hitchin, shortly.
We are also recruiting residents to join our Voice of the Customer Panel. Watch this short video of settle resident – Annette meeting settle CEO, Gavin to find out more about the role of the Voice of the Customer Panel.
Share this article