Mould in properties – we can help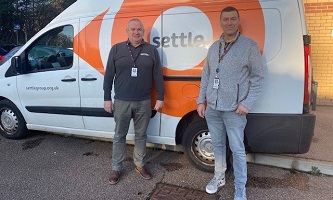 We know that mould in any property is a worry for many people, particularly at the moment, following the tragic news of the death of two-year-old Awaab Ishak.

We want to reassure you that we take any report of mould in a settle property extremely seriously and want to remind you that our colleagues are here to help.
If you're worried about mould in your home, please get in touch. You can tell us more by either completing an online form to provide more details or contact us directly.
Support from a specialist team

Your report of mould will be managed by a specialist team at settle. Mark Beckett, Homes and Maintenance Partner at settle and a member of our specialist team said: "Our priority is to make sure residents feel listened to. If there is mould in a property, it's there for a reason. What we'll do is find out that reason. I see our role to make sure we visit, we assure, and we put right."
Here's what will happen when you report mould in your home:
An inspection will be arranged to understand more about what is happening and to investigate the cause. We're currently booking these investigations to take place within about four – six weeks of being reported.
You will receive a letter with a case number for the report you have raised. This letter will include details of the next steps.
Updates about any visits, work we have arranged and what we are doing will be recorded on our systems against this case number.
Members of our specialist team will keep you updated throughout. You can also use the case number any time you contact us, so that colleagues can update you with the latest information.
Following the inspection, the team will provide guidance, advice and arrange any repairs needed.
If these repairs can be completed quickly, we will look to arrange them through our in-house team. If they are bigger jobs, we will arrange quotes through three of our contractors and appoint one of these companies to carry out the work.
Share this article