Big Door Knock, Jackmans Estate 15 – 25 May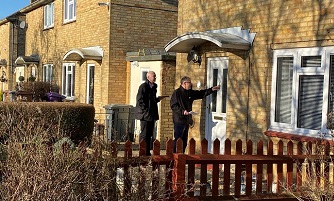 We are looking forward to meeting residents on our Big Door Knock, which is taking place around the Jackmans Estate from the 15th to the 25th of May.

Colleagues from across the business, including members from our executive team and Board will knock on residents' doors throughout the two weeks giving residents the opportunity to let us know how they're doing and share feedback on our services.
We will listen to this feedback and work with partners and other organisations to shape our work in the neighbourhood, as well as doing our best to help any residents in need of additional support to live comfortably in their homes.

For residents who wish to share their feedback or speak to us about anything else – please get in touch with us or you can share your feedback on our website.

We will provide an update on findings from this on our website and more information about our Big Door Knock can be found on our webpage – How we collect your feedback.
Share this article