Our Foundations 4 Work partnership gave Jackie confidence again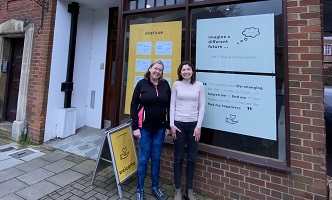 When Jackie first went to the Create Community Hub it was to get support for her mum through the Healthy Memory Café. She didn't realise that it would open doors to help support her own mental health.

Feeling low in confidence and experiencing negative feelings, Jackie was introduced to a range of services to help her become more positive about her own skills.
Hoping to get back into work, she signed up to Foundations 4 Work, a 1-1 mentoring programme for settle tenants to help them move forward with their lives, whether it be improving health and wellbeing or gaining work related support. Together with her mentor Becky, Jackie developed a plan of action with a focus on improving her self-confidence and self-esteem and the aim of eventually getting back into paid work.

Jackie was referred to Create Community's Health and Wellbeing Course to help her develop a more positive mindset and recognise her strengths and qualities.
Reflecting on her experience Jackie said: "Coming here I feel there's support for people who are struggling a bit. I'd become quite negative and worried I couldn't go forward. We did work around having a positive mindset which made me feel there were opportunities ahead – if you put your mind to it, you can do anything! Becky has been amazing, positive, and understanding."

Pathway to Employment

Jackie progressed to the Pathway to Employment programme – a partnership between Create and settle to help tenants recognise what they have to offer to a potential employer. She received interview coaching and had 'a day in the life' of an employee spending a day at the settle office and sitting a mock interview.
Jackie adds: "It was really interesting to go to the settle's office and hear from the different members of staff. It was helpful to receive positive feedback about my body language and advice on areas I can build on, like focussing more on the characteristics and attributes I have developed through my voluntary work."

Jackie also had the opportunity to job shadow at a settle Retirement Living Scheme in Hitchin to gain real-life insight to the day-to-day work of a Retirement Living Housing Officer. She was able to find out about the support the residents receive and how the work involves finding solutions for people, something Jackie would like to do more of.

Jackie continues to meet with her mentor on a regular basis and is building on her skills and experience in the social care sector through her volunteering work. She currently volunteers with Turning Point as a peer mentor and as a volunteer for the Reach Out Project, as well as supporting disabled children at a riding school.

If you would like to find out more visit the Foundation 4 Work page on the Create Community website or email the Create team. You can also call 01462 558802 or drop by The Hub, 19 Station Road, Letchworth, SG6 3BB.
Share this article