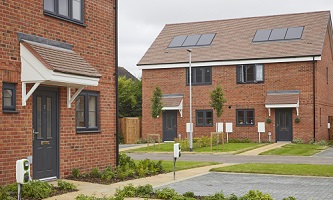 Our purpose at settle is to help people who are struggling to find a place to live, and to help residents stay in your homes comfortably so you can live the lives you choose.
Creating sustainable and energy efficient homes, neighbourhoods and a sustainable business is fundamental to delivering our purpose.
The work we deliver will be built around three key guidelines which have been shaped by feedback from various engagement events with customers and colleagues. These are:
• Homes and Places
• People and Skills
• Our operations and supply chain
Our plan
Our Sustainability Plan 2023-2025 [PDF] shares our vision of how we will include sustainability in all aspects of our work, such as in our existing homes, new homes, resident engagement, offices and operations. Our vision is to ensure that by 2050, homes are at Net Zero Carbon or, where that is not achievable, we will meet the same objective through a mix of energy efficiency, environmental action, and carbon offsetting.
Working in partnership
Our Greener Herts partnership with three other Hertfordshire-based organisations – housing associations B3Living and Watford Community Housing, along with Dacorum Borough Council – is one of the ways we will work more sustainably, by working in partnership to improve the energy efficiency of our homes, follow more environmentally friendly construction techniques and adopt other more sustainable ways of working.
Following our successful bid to the Social Housing Decarbonisation Fund (SHDF) as part of the Greener Herts Partnership, we have secured over £5 million to invest in settle properties to retrofit 670 of our homes, with total investment of making them more energy efficient.
Share this article