Update on John Barker Place redevelopment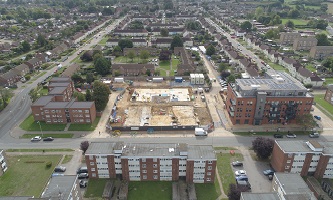 We are really pleased that work has recently restarted on the phase 2 development at John Barker Place, to provide additional new homes beside the building at Kingfisher House.
We remain committed to the future phases of this development and thought this would be a good opportunity to provide an update on the next stages.
Phase 3 – we expect feedback on the detailed planning application soon, enabling us to progress with developing 48 new affordable homes on the site of Freemans Close.
Phases 4 and 5 – investment to Westmill Lawns, along with investment to flats on John Barker Place (numbers 2 to 136) and 53 to 75 Westmill Road (odd numbers only). We have submitted proposals for pre-application advice from the planning team, to enable us to action feedback before submitting the detailed planning permission application.
Those living in Westmill may be aware that residents moved from Westmill Lawns to Kingfisher House last summer. The buildings at Westmill Lawns are occupied through the Live-In Guardians scheme, providing temporary affordable accommodation to key workers and young professionals until we can then move forwards with the development proposals. More information about the Live-In Guardians scheme is available here.
We'll continue to keep residents across Westmill updated as we move forwards with plans to invest in homes in this area.
Please continue to contact the Regeneration team at settle if you have any queries about this development. You can email johnbarkerplace@settlegroup.org.uk or call us and ask to speak to the team.
Related Pages
Share this article