Big Door Knock, Royston 15 – 25 August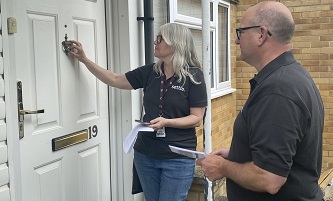 We're looking forward to meeting residents on our upcoming Big Door Knock, which is taking place in Royston, Hertfordshire, and surrounding villages between Tuesday 15 to Thursday 25 August.
Colleagues from across settle, including members from our executive team will knock on residents' doors throughout the two weeks giving residents the opportunity to let us know how they're doing and share feedback on our services.
Whilst most visits will be carried out during the day, we are including two evening visits (4.30pm to 7.00pm) on the Wednesday of each week to try and speak with residents who are out during the day.
We're listening
We carried out a Big Door Knock in Royston and surrounding villages in January 2022. We decided to go back and speak to residents because of recent feedback from some residents who aren't satisfied that communal areas are clean and well maintained.
We would like to speak to residents about this and anything else we can improve. We will use feedback to work with partners and other organisations to shape our work in the neighbourhood and do our best to help any residents in need of additional support to live comfortably in their homes.
For residents who wish to share their feedback or speak to us about anything else – please get in touch with us or you can share your feedback on our website.
There is also more information about our Big Door Knock events on our website.
Share this article